Feedback
As customers tell us what they think of our restorations and mods, we will put their feedback up on this page.  I'll give a little background for each.  We're not making this stuff up, the most we do is ask people what they think.
QRX9001, Ken in Canada. Ken is a very special customer to us.  While I was helping another qrx-ophile on Audiokarma, who was struggling with a 9001, Ken wrote me and asked if I would restore his 9001.  That led to all this.  Ken is a very critical audiophile.  He mainly plays back digital files that he has either converted himself or acquired in digital format, the higher quality the better.  His music source for listening, then, is his computer which runs through a choice of two different outboard DACs and then into his 9001.  Ken has been listening to Sansui Quad for a while, he has a 7001 also.  He's mostly talking about the differential mod here.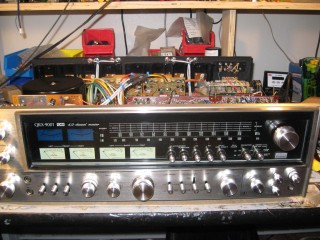 "first impressions: about an hour and half in  –wish I was in a 20'x20′ room  –some terrible source files (must improve)  –didn't realize it would have that much impact on overall (bottom to top) quality of sound  –seems every sound has its place, sharper, clearer, crisper  –can really hear the difference in the quality of source files  –gotta get some dvd-a music discs  –swear that sax was in the room  –surround mode is brighter, top end heavy  –sq mode sounds really good, not as bright, more like quad, not front back"
"Was up late last night listening, this thing sounds unbelievable, and if I can feed it some better quality audio, which I will do, will sound even better.  really brought the weak links, primarily source.  You can really distinguish between 128kpbs and 320kbps on any file whether mp3 or flac.  It was definitely eargasm time last night.  it has been such a huge increase in audio quality since I started upgrading alst may, first with the dac, then the 0404 and now the 9001."
"Ya know I always thought that surround mode had the best sound of the modes both on the 7001 and 9001.  Thats before you got your hands on the 9001.  When I first fired it up and was listening, I was looking for that same effect but a little better, and the SQ mode 'seemed' to fill that bill.  I found it strange that surround mode wasn't to my liking anymore…something was different…so I gave it another try…without looking for anything…just letting it happen…my first impression of surround caught me off guard…I wasn't ready for it…now, I had to try and wrap my head around it, but, it wrapped around my head instead.  Whatever, WOW, just blew me away, have not heard anything like that before.  It seemed as though I was in the studio sitting the middle of the musicians.  I guess that's why they use the word 'surround'.       Just had to clarify, that my first impression was way, way, way off.  Surround mode is the g-spot.  Just incredible."
William, a Bozak enthusiast contacted us wanting to buy a 9001, because it had 4 channels and he could use those channels to bi-amp his Concert Grands.  He wanted the pre-out mod on the back panel.  He was not a quad enthusiast.  He ended up buying a beautiful QRX999 from us.  We talked back and forth a lot, and I finally convinced him to at least try listening in quad a little bit.  After listening, this was his response…
Wow, I really had no idea…  welcome to the world of quad! – lol…  THIS THING IS AMAZING!
I've been listening to the QRX999 in 4 channel surround for the past 4 hours.  Even with the yard sale bought, refoamed, cheesy little AR24 bookshelf speakers in the back the effect on the soundstage of music in my big room is truly hallucinatory in its "realness".  I just finished listening to a Japanese pressing of a live recording of Wes Montgomery and Wynton Kelly Trio.  I had this record in my collection for 15 years but I think I just really heard it for the first time with the 999,  I was not at all prepared for what this receiver does for stereo recordings.  Now to dig up my quad recordings.
I'll put bi-amping on the back-burner for now and look into getting another pair of Bozaks with a smaller arrangement of the same drivers as the Concert Grands up front.  Having the same vintage and brand speaker if not model makes a lot of sense to me now that I've had chance to listen.  I'm grateful for the efficiency  figures you provided – now I know where to begin.
Oh yeah…, the icing on the cake is that it's hands down the best looking receiver I've ever seen, let alone experience the pleasure of owning.  Long may it run.
Thanks Jim
AU999, Kevin in New Zealand. Kevin is a pro audio engineer like myself.  He mixes a lot of live music.  He also is about the most accomplished amplifier guy I have ever met.  I have learned tons from him about how to  setup, repair, and little tricks for working on amps.  He was very curious about our differential amp mod, and since it would cost him over $1200 to send his AU999 to me, just for the round trip shipping, we sent him the parts and instructions on how to do it.  It's quite complicated to do, but was easy for Kevin.  (Of course we made him take 12 vows of secrecy.  🙂 )
"My Au-999 now sounds better than the AU-9500……The 999 now has more ultra top end range than the 9500, the whole top end of the amp is transformed……its incredibly linear, imaging depth, reverbs, delays which are now apparent, it's so smooth……and the depth is incredible…..Big transients are in your face, the stereo image comes together, the bass is tight………what gets me though is the image……..I can listen to the 999 louder and longer than the 9500 now…… "
"I would say, yes the amp is very fast now…….I am very impressed with your mod here, how anyone can't understand what you are onto here is beyond me…….I am speechless at what has happened to my 999 with this mod….."
QRX7001, Kurt in Hawaii
Kurt has a 7001 and of course, lives in paradise.  He sent us 5 boards from his 7001 to recap and massage a little bit, the phono preamp board, the quad boards, and the output driver boards.  We did a recap to all, the HG alignment, and the diff mod to his output boards.
"I've been listening quite a lot to my Sansui with the new boards, and the more I listen, the more I like!   I have been going through different sources such as QS, SQ, CD-4 albums, Super Audio CD's, new vinyl pressings and different formats of music and video to hear the greatness of the modifications.  I have been listening to jazz, classical, rock and various other music genre's  and I love what I hear.  The brilliance of sound, the clarity of the instruments, the separation of the music is phenomenal!  It is hard to describe but it is closer to being "live music" as one can get. . . I am very happy with the sound that my Sansui now generates.  Blu-Ray DVD's sound ultra-realistic.  I can enjoy audio and video sources better than before.  I must say, the mods are a definite improvement!"
QR6500, John in Minnesota
John sent us a QR6500, as far as I know, the first top of the line unit in what was to become the QRX series.  It was introduced in 1971.  John has owned his 6500 since new, and only one word describes it.  Perfect.  The same as new.  It was almost an honor to work on the grand daddy of all this craziness and especially a perfect example like this one.  I can tell you, when I worked on it, and took it all apart, I was terrified of leaving a scratch somewhere, but it all came out good.  John is talking about the tuner knob not tuning, which you can read all about, and the fun I had fixing it on the Shop Action page.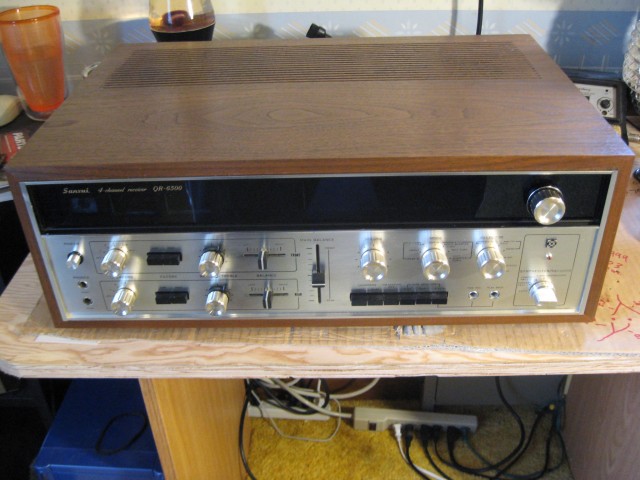 "Arrived in perfect shape.  I am amazed at how great it sounds and how nice it is to be able to tune the stations.  I was blasting my music last night and finally thought I should go outside and try and see if it was too loud, but lucky I have a brick house, so no noise problem.  It seems to be working perfectly and clearer, cleaner sound than before, but I guess that is a subjective call.  Anyway, I love it and can't thank you enough for working on it.  Another very satisfied customer here!!  And the cabinet looks better than new with your tongue oil treatment.  Really makes one appreciate what junk the new stuff is.
Going to get my turn table hooked up this weekend and play some old 70's stuff."
---
QRX9001, Ken in Seattle
Ken contacted us several times looking for advice on buying a 9001.  Eventually he just decided to buy one from us that we were restoring.  He asked for an all LED front panel, which came out looking really good.  We ended up calling it the "green machine".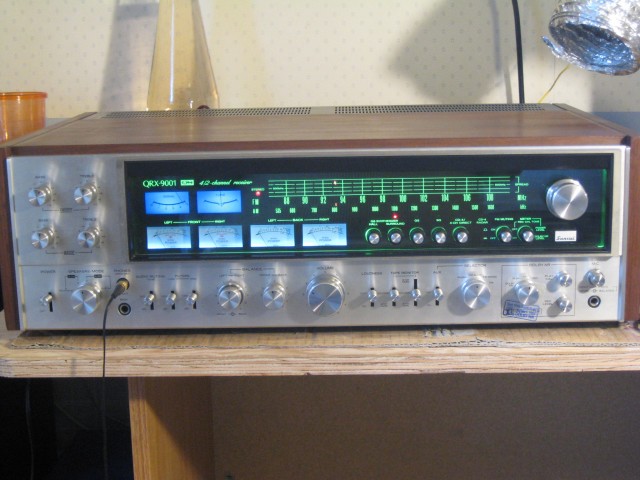 "we made it back safely, I unpacked the green machine last night and took the time to hook up most of the components even though I was tired.  The first CD was the one and only Pink Floyd Dark Side Of The Moon.  It was recorded with such good channel separation.  Wow cannot even describe the clarity, depth, and down right punch that this QRX9001 has.  I was up till midnight trying different types of music.  The phono stage was the most improved over the 5500….. The green machine is great with records…… You have a winner with the upgrades that you have done with the 9001.  I am just thrilled with the set.–Ken"
---
7001 Boards, diff mod, and HG mod
Dan, in Richmond, Virginia, sent us his 7001 output boards for the diff mod and his quad boards for the blend resistor removal and HG alignment along with a recap.   Dan is just the kind of quadnut I like to  help out… he had already recapped his 7001, all except for the quad boards.  That means he gets the full effect of these mods, as his power supply is fully up to snuff.  Anyway, here's what he had to say.
"Plugged the boards in and they sound GREAT!  The driver board improvement is PROFOUND!
Just to drive the point home, I took the boards over to my brother's house.  He has a completely unmolested QRX-7001, never been opened or serviced in any way, in a more controlled listening environment than my house.  We first changed out the driver boards.  He was  stunned, couldn't believe the improvement in both 2 channel and four channel modes.  Then we plugged in the F-2087 and F-2088 boards with the blend resistors removed.  The difference in surround mode is most striking.  I have come to like the sound of the surround mode so much, I actually think SQ records sound better in this mode on the QRX-7001 than they do in the SQ mode, makes me wonder how well Sansui decodes SQ.
Anyway we spun a lot of stereo LP's and really are big, big fans of the improved derived quadraphonic.
My brother says he wants to send you HIS boards now, and I have told him I will help him recap his power supply to keep things safe.  Thanks again and there will be more business coming soon, this winter I plan to start in on my QRX-9001!"
Go Dan.